Calculator
Calculate and create your personal
investment portfolio
that will help you achieve your financial goals
and avoid mistakes.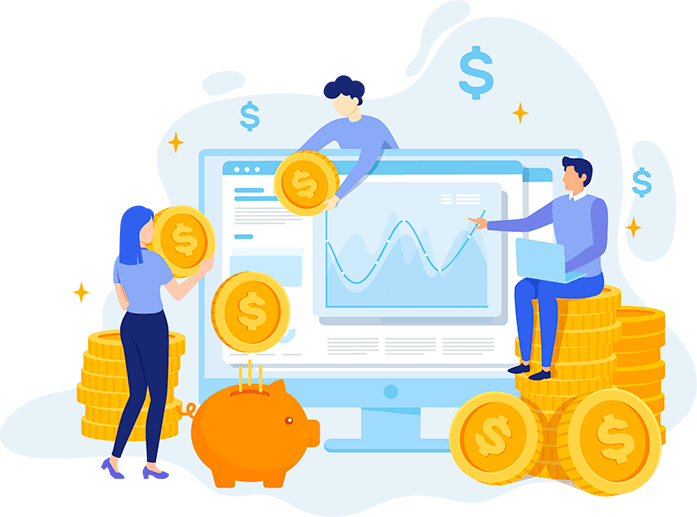 Calculate the potential of your investments or trading
Create your scenario.
Indicate the initial investment amount, monthly replenishment, investment period and risk level.
Expected Results by: September 2026
150 000
Portfolio return

Portfolio Expected Value
27 000 USD
Total invested

Expected Income
13 per year
Annual interest

Expected Return
You need to know:
How to use an investment calculator?
In order to see the approximate result from your trading or investment activities, you need to specify the following data: Investing amount in USD is the amount that is currently available and that can be invested. Monthly recharge in USD is the amount that you can add to your investment portfolio every month. Investing time – the time after which you want to get your expected result. Risk level – the level of risk and return, usually the higher the return, the higher the risk itself.
How does trading differ from investments?
Trading is a daily work that is necessary to make a profit in the financial markets. Trading gives you daily income and in most cases gives you more income than investments. An investment is a long-term purchase of a financial instrument in order to make a profit. Typically, such a financial instrument is bought for a period of 3 months to several years. The average profitability of day trading is 15-20% per month. Whereas the average return on investment is 2-5% per month.
How much can I start trading or investing?
The minimum amount for trading is 10 USD and 100 USD for investment. But in order to make this your main type of income, you need amounts from 10,000 USD for trading and from 100,000 USD for investing.
What risks can I expect?
The main risks are trading and non-trading. Trading risks are associated with the current market situation, which can be influenced by various crises. Non-trading risks are risks that are associated with an incorrectly chosen financial company or bank in which your money will work.
I don't know how to start.
In order to properly start trading or investment activities, it is better to get advice from professionals. Because in each case, the goals of the milestones are different, as well as the initial possibilities. You can contact us and we will develop a detailed financial plan for you so that you can achieve your financial goals.
create or login to your account to unlock all FinanceWould functionality
MY FINANCE WORLD
And we also recommend subscribing to our FaceBook and Telegram channels in order to receive the most relevant information in demand on the financial markets.