Learn

To All Posts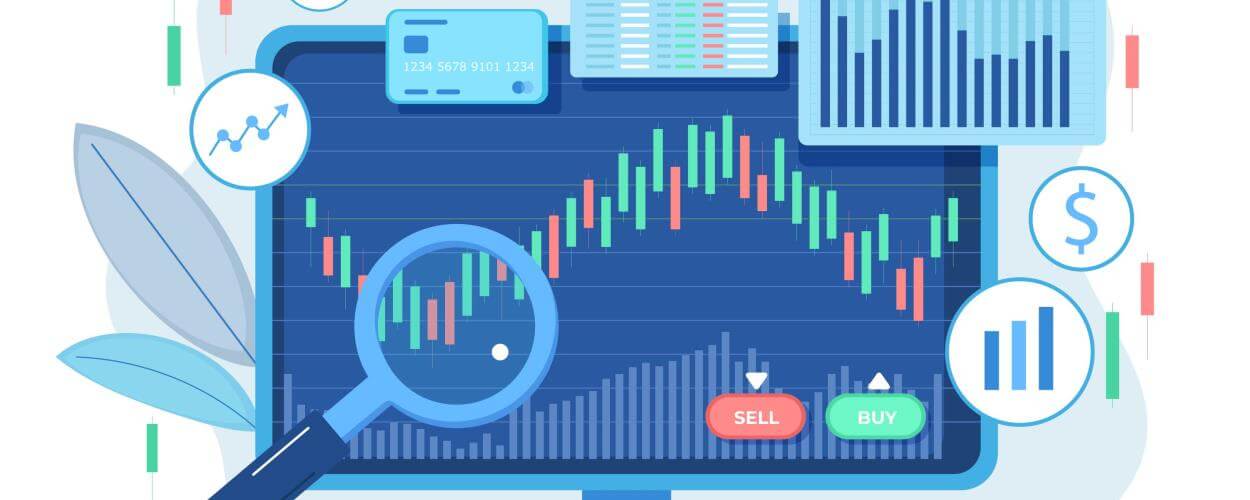 Trading Online
What is online trading and how it works
Nowadays, online trading is becoming more and more popular all over the world. A huge range of financial instruments for trading became available with just one click.
In fact, online trading offers limitless possibilities as traders can access the global financial markets from their computers.
Therefore, in this article, we want to talk about what online trading (or Online Forex Trading) is and how it works.
Next, we'll look at the following points:
What is trading
Benefits of Online Trading
How to trade online
Tools available for work
Online trading platforms
What to look for when trading online
How to start online trading
We will also briefly talk about how to properly manage the risks associated with online trading.
What is Forex trading?
To know how online trading works, you first need to understand what it is.
Online trading is trading that takes place on the Internet. Traders and investors buy and sell financial assets online through a trading platform offered by a broker or bank. Trading decisions are made on the trading platform and then instantly sent to the broker, so a permanent internet connection is required.
Online trading is a serious business that should be taken as a profession, and not as a way to quickly make a lot of money without risk and without knowing anything about it.
Also, the truth is that trading is available to anyone who is willing to work hard and morally invest in this activity because trading is a daily challenge.
Online trading has evolved significantly since the 1990s thanks to the advancement of technology, computers, and the capabilities of high-speed Internet.
The Internet: As global statistics show, Internet technologies are spreading at a staggering pace. People now use the Internet for shopping purposes as well.
Computers: Moore's Law states that the total computing power of all computers doubles every two years, which allows traders to quickly connect to the Internet and allows them to conduct analysis on their personal computers.
These two trends have fueled the rapid growth of online commerce and made it easier to access financial markets in ways that didn't exist before. More and more people can now trade Forex online and this trend will only increase. Trading Forex online offers a long list of advantages over the pre-Internet era of telephones and faxes.
Online trading what is it and what are its advantages
Before the advent of the internet, traders and investors had to trade by mail, telephone, and fax. More often than not, traders made a buy or sell decision over the phone with their broker.
This process was very slow as brokers needed to confirm transaction details such as price, quantity, type of trade, duration of trade, exit price, account specification, etc. The digital age has significantly impacted online trading in general. The difference between the past and the present exceeds all expectations.
And that's why:
Transaction costs are significantly lower as trading takes place online rather than over the phone.
The transaction speed is much higher.
More financial instruments available.
The trading platform can execute any of your trading decisions as long as you have an Internet connection.
Traders have access to a wide range of tools and indicators.
Virtually no physical work, all tools calculate data automatically and literally instantly.
Traders can simply add a trend line to the chart with a double click.
Moving, deleting, adding lines, instruments, and indicators also occur in a few seconds.
Online courses, analytics, and online trading sites are available.
As you can see, not only the ease of trading has improved significantly, but also the simplicity and quality of tools, indicators, and analysis methods.
Traders used to have to create charts on paper, and even as computers became more affordable, traders had to manually calculate many levels and indicator values.
Online trading platforms also allow for a wide variety of orders that can be set up instantly with a broker of your choice.
The wide choice of orders is an advantage as it allows traders to create an accurate trading plan:
Buy orders:
Place a buy limit order (buy below the current market price)
Place a market buy order (buy at the current market price)
Place a stop order (buy above the market price)
Sell ​​orders:
Place a limit sell order (selling above the current market price)
Place a market sell order (sell at the current market price)
Place stop order (sell below market price)
Closing orders:
Stop-loss to enter a predefined level with a loss
Take profit to enter a predetermined level with a profit
A trailing stop order to enter higher levels as the trade develops
The last major advantage is that there are no restrictions on how traders trade. They can choose whatever trading strategy they prefer. When trading online, there are no limits to any trading style. Here is a summary of the trading styles:
Scalping – short-term trading
Intraday trading
Intra-week trading
Swing trading
Long-term trading
Expert Advisors
Some of these trading styles seemed unimaginable decades ago when a broker was still required. Online trading has truly revolutionized the world of trading and created a large number of financial instruments for a growing segment of traders.
Tools that can be traded online
Brokers nowadays offer a wide range of financial instruments and markets.
Forex (foreign exchange market)
Commodity CFD trading
Trading CFDs on Indices
Trading CFDs on stocks
Exchange-traded funds (ETFs)
Trading bond CFDs
Cryptocurrency CFD trading
As you can see, there are seven different categories. Each segment has a list of instruments that an online Forex trader should use to trade.
Trading Forex Online – who is a trader
The profile of a typical trader can be defined in 3 different but complementary categories:
Analyst: Analyzes the context in which a particular instrument is located using fundamental analysis and technical analysis, although usually traders only use one of these two types of analysis.
The trader as such: he buys and sells instruments such as CFDs for-profit and earns on the difference between the buy and sell prices of trading positions.
Risk Manager: Because the trader must first and foremost manage the risk that he takes in the markets in order to remain profitable and continue to operate.
A trader is primarily a financial market professional who knows how to interpret and read market fluctuations and visible prices in quote tables in order to benefit from them.
We will now take a look at what traders should look for in an online trading platform.
Trading platform for online trading
An online trading platform should offer traders an easy way to trade and access the financial markets. Traders also need a platform for other tasks. Here is a list of tasks that professional traders need:
Trade entry parameters
Exit parameters
Trade management parameters
Graph analysis
Using indicators
Modifying or adding analysis tools
Expert Advisors
Using the strategy tester
News monitoring
Tracking open and closed deals
Fast switching to different types of accounts
Using multiple profiles for different types of analysis
And it's not just about trading. A good trading platform will offer much more. Before you start using it, you need to test the platform to make sure it offers what you expect and what you need to make your trading life as efficient and successful as possible.
Forex trading online – the best platform
Intelligent work also requires the right tools. There are several tools in trading that any trader should have access to:
One of the tools, if not the most basic, is the trading platform. This platform allows you to take a direct position in the market to implement your trading strategy.
There are many free and paid platforms. Among the free online trading platforms you can find:
MetaTrader 4
MetaTrader 5
MetaTrader WebTrader
These platforms are especially good for online Forex and CFD trading. The MetaTrader platform offers a charting platform that is very easy to use.
It is important to test the platform before using it to make sure it offers what you expect and what you need for your operations to be as efficient and successful as possible.
Successful online Forex trading is impossible without the right platform.
How to start online trading
Online trading is based on 4 stages:
Find out how the CFD markets work
Analyze financial markets to find the most suitable markets for favorable trading.
Execute the operation by entering a long or short position according to the previously performed analysis
Practice
Here are the most important steps:
Find a regulated broker.
Choose brokers based on the quality of order execution.
Find the type of trading account that suits you best.
Choose the right Forex leverage according to your profile and experience.
Enter funds into your trading account that you can afford to lose.
Choose a simple and reliable, intuitive trading platform
Finally, start trading CFDs on currency pairs and Forex.
It is now quite easy to operate in several markets at the same time. Online brokers offer demo accounts to be able to create stock market portfolios as well as online stock trading accounts.
All you need is to open an account with an online broker to make transactions.
Tips – Online Forex Trading
Online Forex trading involves constant learning – look for information about trading on the Internet, study, analyze. Almost everyone has an opinion on important steps and important tips for success as a beginner trader.
It is difficult to combine all this wisdom, experience, and knowledge into a few tips, but we tried to highlight the ones that are often mentioned.
Tip 1. Online trading – trading system and plan
The first step is to develop a trading system and plan. Trading Forex online is almost impossible without careful planning, especially when it comes to successful trading.
The trading method helps you understand when to trade the most profitable. It will also help you organize your thoughts and your approach so you can become more consistent.
Tracking your trading ideas. Analyzing how your trade setups are performing, in general, is a vital way of gathering information. This allows you to learn from your mistakes and improve your methods.
Tip 2: Online Forex Trading and Risk Management
The second step is to understand the benefits of risk management. Once you are done testing your systems and trading on a free demo account, you can take the next step and trade on a live account.
Traders are sometimes unaware of the risks when they start trading. For example, some traders do not use a stop loss, which is critical as it allows traders to limit their risk on every trade.
Another problem is that traders overestimate risks and can potentially use too much leverage for their setups.
Traders who use low levels of risk are better prepared to withstand drawdowns (losing streaks) as their trades go through weaker periods.
Smaller losses can lead traders back to a positive outcome when their strategy starts to improve again.
Tip 3: Online Trading – Choosing Your Own Trading Style
Traders are generally unsure which methods work best for them. They often change their trading styles and use different methods of online trading.
This is good in the beginning because it takes time for traders to find a style and approach that goes well with them.
It is important to understand that a strategy that works well for Trader A may not necessarily work for Trader B. For example, Trader A may get the best scalping results, but Trader B may have too little time to trade in the same way.
When trading the markets, remember that it is important to know the following:
Your financial goals in the short and long term
What risks are you ready for
How much time can you set aside for trading
How many strategies can you analyze and apply
Why and how you are motivated by trade
What trading style, what instruments, and with what indicators are you ready to work
Tip 4: Online trading with a demo account
Traders don't need to take a lot of risk from the start. They can test all kinds of trading strategies, analyses, indicators, and methods with a demo account that allows you to trade without risk on your part. This is a helpful first step for novice traders.
How to become a successful Forex trader
Forex trading is open source and addictive and offers traders many opportunities. However, few traders can boast of good results. In fact, over 80% of Forex traders lose money.
Below you can find actionable tips for beginners and professionals – three recommendations for each type of trader and the answer to the question: how to succeed in the Forex market?
Step 1: How to Become a Successful Forex Trader – Never Delay
This is an important step towards becoming a trader. Successful people never put off until tomorrow what they can do today. You must use every opportunity to achieve your trading goals.
This is why you must develop the habit of avoiding procrastination. The best way to do this is to just keep going. Even something as simple as demo trading can get you started.
Get started now by opening a demo account.
Step 2. How to Trade Forex Successfully – Practice
Since we are discussing demo trading, there is a good phrase that you have probably already heard: "Water wears away a stone."
With a demo account, you can practice and move towards excellence. It is very helpful to get a feel for the trading platform and get familiar with its functions.
Step 3. Education on Forex
Sounds simple, right? After all, everyone understands the importance of proper education.
However, there is no single and simple answer to the question of how to become a successful person and how to work on Forex. All this takes time, effort, and desire.
Step 4: Forex Trading Online – Understanding the Risks
To make the most of your profit, you must understand and accept that trading involves risk and you must follow the safety rules when working on it.
The first step to understanding this is to make sure that the capital you are using is sufficient to make trades and that your risk tolerance is adequate. That is, you must be able to analyze your goals and objectives and build a trading plan corresponding to these data. For beginners, this is what is most important.
Step 5: Invest What You can Really Invest in Online Forex Trading
One of the best tips for any new trader is to start small and increase your balance only with your profits and not with additional deposits.
You don't need to invest a large amount to make a profit – you can maximize your investment, no matter how small. By starting small, you minimize the risk of large losses with large amounts of cash.
This is an important part of understanding how Forex works and building successful online Forex trading.
Step 6: Start Online Forex Trading With One Currency Pair
The world of currency trading is complex due to the unpredictable nature of the markets and the difference between those who trade. It is difficult to be the perfect trader in the financial world.
For this reason, it is advisable to start working with one currency pair – preferably the one with which you are familiar. For example, you can choose your national currency (or the one that is most widely known). This will make it easier for you to learn how to trade Forex.
Step 7: The Need for Emotional Control for Those Who Want to Become a Successful Trader
If you start to worry about the market and the impact on your trading, try not to be distracted by your emotions. Surrendering to panic, greed, or anxiety is a surefire way to ruin your trading career. Therefore, it is recommended that you take a logical and practical approach to your trading.
All traders must have a predefined trading strategy, so follow it. Do not make spontaneous decisions (for example, change your mind during the transaction due to an emotional mood) – you are more likely to commit wrong actions that can cost you dearly.
While this advice is not a direct answer to the question of how to trade Forex correctly, it can certainly help you avoid costly mistakes.
Step 8: Online Trading is Keeping Records of Your Every Step for Further Analysis
We learn from our mistakes and this can help you trade Forex. Keep a record of your successes and failures, as well as any mistakes and positive steps you have taken to achieve your desired profit.
These steps will help you organize successful Forex trading.
Now that we have covered the basic information, let's take a look at the basic steps required to become a professional Forex trader.
Pro Step 1: Developing a Forex Trading Strategy
To become a currency trader, you need to have a clear vision. By these words, we mean having good ideas about possible market moves and your corresponding actions.
There are many trading strategies available.
You can become a speculator, swing trader, or position trader.
More important, however, is to develop a strategy that you can comfortably use.
Developing such a strategy is a trial and error process that takes a lot of time and patience.
You understand what you are doing and why you are doing it. At this stage, a demo account is again necessary, as it allows you to test your strategy with zero risks.
Pro Step 2. Switch to a Real Account
Many people want to become Forex traders, but not everyone knows how. Typically, a professional Forex trader is a person who can trade for a living.
The only way to cover your expenses is to trade on a live account. Trading on paper or trading on demo accounts does not pay your bills.
For this reason, it is very important to switch to a live trading account as soon as you are ready.
If you are going to use a demo account, you should ideally aim to switch to a real account.
It is difficult to say when you should switch from a demo account to a live trading account.
Make sure you have a good understanding of the market and the risks associated with Forex trading before you start trading on a live account.
Also, keep in mind that you should switch to live trading in a timely manner.
We usually recommend starting trading on a real account after a month of practice on a demo account.
Pro Step 3: How to Become a Successful Forex Trader
Finally, once you've found your trading strategy and switched to a live trading account, you move on to the next stage – or rather a series of steps:
Set stop losses for every trade.
Develop a trading plan and always stick to it.
Do not risk more than 2% of your deposit per trade.
Keep your emotions aside from trading.
Never trade to make up for your losses.
Trade only when you feel it is the right moment.
Do not be afraid of losses – they happen to every trader.
Try to achieve more profitable trades than the ones in which you lose.
This is the path you need to follow to become a good Forex trader.
What you are watching is years and years of hard work. Along the way, you will encounter great losses and stress, but don't give up: with effort and interest, you can make up for any losses.
Summing Up – How to Trade Forex Successfully
As a Forex trader, you can work from virtually anywhere you have an internet connection. We are talking about hotel rooms, cafes, and, thanks to the latest technological developments, even in remote corners of the world.
Forex traders are blessed with strong growth potential, and their lifestyle can certainly be a lot of fun. But if you've ever taken this path, you know this gift doesn't come easily.
The sooner you start, the quicker you will get there. So why not start trading now?
DOWNLOAD FINANCEWORLD APP OR USE WEB VERSION
Live Trading Signals: Forex, Stock, Crypto, Commodities



create or login to your account to unlock all FinanceWould functionality
MY FINANCE WORLD
And we also recommend subscribing to our FaceBook and Telegram channels in order to receive the most relevant information in demand on the financial markets.