Learn

To All Posts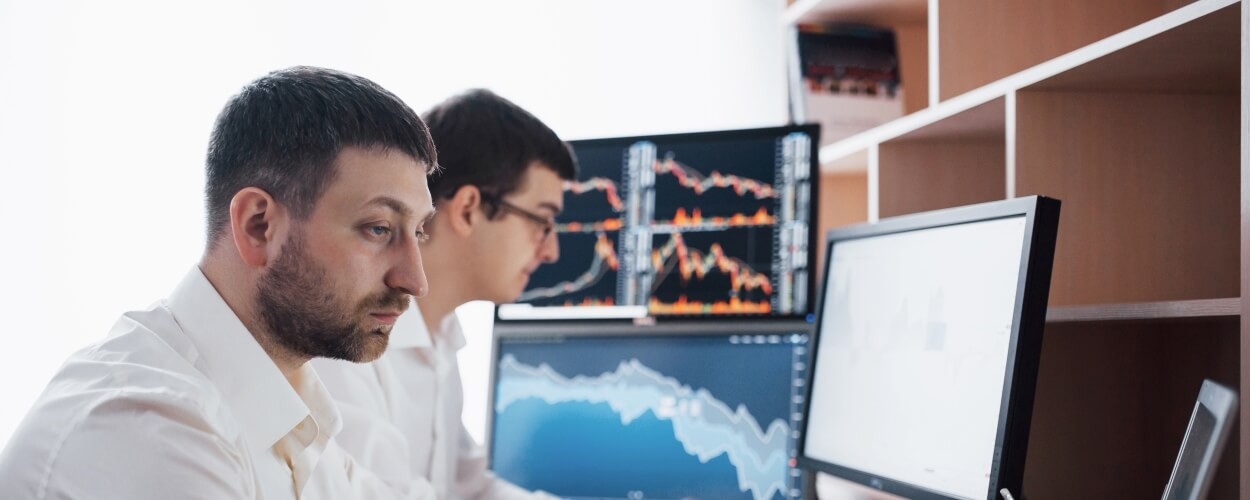 Currency Trading for Dummies
Currency Trading for Dummies
Trading is understood as the performance of trading operations in the foreign exchange or stock market in order to extract profit from the difference between the purchase price and the sale price. Simply put, trading is trading where currencies or securities act as a commodity and a single electronic platform on which transactions are performed as a platform. For currency trading, such a platform in the Forex market (from English "foreign exchange"), and for securities trading – international exchanges (Moscow, Tokyo, New York, and others).
Trading for beginners, especially if they don't have a basic knowledge of economics and analysis, can seem like an overly complicated thing. This is only partially true: like any business related to money, trading requires training. You should trade only on practice accounts with virtual money without any preparation.
FOREX trading basics
The Forex trading scheme has the following basics:
The dealing center provides access to traders to make transactions;
The dealing center opens a trading account in the name of the trader, to which funds are credited;
With the help of specialized software – a trading terminal – a trader receives information about the history and dynamics of prices and generates requests for making transactions for the purchase and sale of currency;
The Forex company makes deals and records its results on the trader's trading account.
If the rate of the purchased currency has increased, the trader can sell it for another currency and make a profit – just like in classic trading.
If the rate of the purchased currency starts to fall, the trader should think about selling it quickly in order to minimize his possible losses.
For many novice traders, the abundance of charts and functions in the trading terminal gives the impression that trading is an occupation for highly qualified analysts. Of course, trained analysts have a good chance of quickly learning the basics of trading and starting to generate income from trading – and this is logical – but a fair amount of trading is technical information, not secret knowledge. It can be learned and practiced.
That's right: to successfully trade with real funds, you need knowledge and practice. This knowledge and practice can be obtained – by reading thematic literature, attending training programs of forex companies, or contacting expert centers that study the markets.
Why start trading?
A smart way to start your career as a trader is to progressively learn the basics of currency trading.
To get started, you can watch free Forex video tutorials – they will help you understand the terms, concepts, market participants, and key mechanisms. As a result of acquaintance with the basics, it will become clear whether this topic is interesting to you and whether you want to study it deeper – in this case, it is worth signing up for a full-fledged course of study. After that, you can try your hand at a secure demo account and gradually come to trading with real funds.
4 tips for dummies or trading for beginners
This situation in Forex trading for beginners is due to the high level of competition and the opportunity to make big fortunes. If you are new to the currency exchange, then you most likely need to learn a lot and hone your skills in a large number of trading techniques. For example, you must know when to enter forex trading and how to properly exit trading on the currency exchange.
However, there are right and wrong approaches to learning market fundamentals. And choosing the right path will only speed up the process of creating a mechanism for stable income in the Forex market…
If you want trading for beginners to become a source of success and stable income for you, you should pay attention to the following 4 factors and base the beginning of your career on them:
Timeframes.
When starting out in the Forex market, it is not worth wasting time looking for short-term strategies. Day trading and scalping is the most difficult type of trading as it requires tight spreads, a lot of skills, and high leverage. Long-term trading, on the contrary, requires large investments and is beyond the access of novice traders.
Instead, try your hand at medium-term trading. Pay attention to trades that last from one day to several weeks, which will give you the chance to find highly profitable trading opportunities.
Personal qualities.
Ask yourself about your strengths and weaknesses. Which strategy suits you perfectly, and how do you feel under the different risk thresholds. All these questions will help you decide what kind of strategies and currency pairs you want to focus on.
Choose a pair of currencies.
It is best to concentrate on one currency pair at first. Learn its patterns and characteristics, find out what time of day it is most volatile and how it reacts to other crosses and news releases. You should have a desire to thoroughly study your currency pair, build a level of intuition that will help you in making the right trading decisions. For these purposes, it is worth choosing one of the highly liquid currency pairs like EUR-USD, GBP-USD, or USD-JPY.
Test the strategy.
Once you have chosen currencies, timeframes and you are seriously studying how Forex works, then you should start testing some strategies. Install a free trading platform as MetaTrader and start observing the market. Open the charts for the pair of your choice in several different timeframes. Minute, hourly and daily charts are generally recommended. Then, place the technical indicators you want on each chart.
Wait for the moments when your indicators in each timeframe will point in one direction and start demo trading in that direction. Use trading stops and follow news releases to be prepared for market changes.
Trading for beginners is an interesting process, the work on which should not only bring you a positive experience but also your first profit, which will help you build your stable capital. And if you build your career based on the above factors, then you have a good chance of success.
DOWNLOAD FINANCEWORLD APP OR USE WEB VERSION
Live Trading Signals: Forex, Stock, Crypto, Commodities



create or login to your account to unlock all FinanceWould functionality
MY FINANCE WORLD
And we also recommend subscribing to our FaceBook and Telegram channels in order to receive the most relevant information in demand on the financial markets.