Learn

To All Posts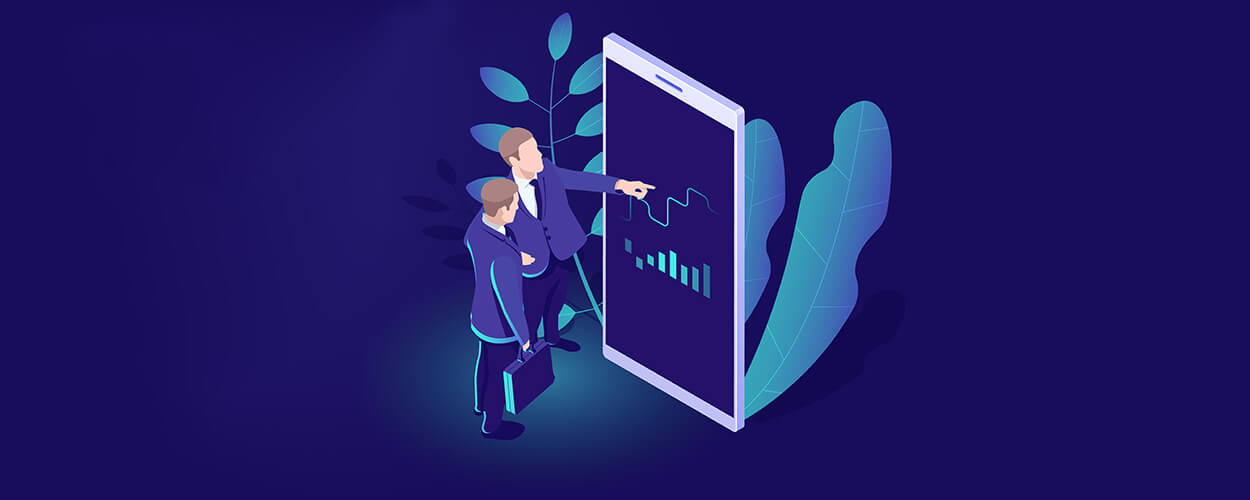 Best Stock Trading App
Best Stock Trading Apps
As a result of the transition of all kinds of business online, everyone has the opportunity to try themselves in everything that is interesting. If you've always wanted to be a stockbroker, but starting this type of business was too expensive and took a lot of effort, then now is the time to start making money with the great and simple stock trading apps that you will learn about in this article.
17 best financial trading apps
01 of 17- Plus500
Plus500 is recognized by an extensive trading screen with detailed information on past and current stock positions. The app is very visually rich and includes extensive diagrams. Fees and commissions are affordable and variable so investors of all skill levels can try it out.
How it works: Plus500 is a proprietary platform that focuses on technical analysis and stock trading. The application provides users with multitasking within the program; trading in multiple markets and tracking quotes in real-time.
Cool features: Demo account, risk management, various trading assets, email alerts, mobile alerts, guaranteed stop loss, available for all mobile OS.
Custom Tips: Consolidate all your trades across multiple financial markets with a single Plus500 app screen.
Business model: Minimum deposit € 100 for standard deposit methods / minimum deposit € 500 for the bank. 10 euros fee for inaction.
02 of 17 – Robinhood
Free, easy to use, and best stock trading app. Apart from the standard plans, the app offers premium memberships for golden features. The lack of commissions makes it extremely suitable for new investors.
How it works: After registering and making a deposit, you can search for a specific firm in the app's search bar and, like all trading platforms, track the company's revenue stream and invest accordingly.
Cool features: No minimum investment, no maintenance fees, no commissions. Scheduled deposits, list of watched companies, tracking of day trading, preliminary order support. The newly added Robinhood Instant feature allows instant access to deposits (up to $ 1,000) instead of the standard three business day wait.
Custom Tips: Deposit your funds right away so you can catch a great deal as soon as it hits. Be patient. If you see the growing potential of your shares, do not rush to sell them, and lose money without even getting them.
Additionally:
Robinhood Gold (Large Instant Deposit, Overtime Trading, Line of Credit)
Cryptocurrency trading (Bitcoin, Litecoin, Dogecoin, etc.)
Business model: Free app, no fees. While this may sound suspicious, in fact, Robinhood offers the opportunity to make money without any commissions from you, and this is a key component of the app's official advertising campaigns.
03 of 17 – TD Ameritrade mobile
The Toronto-Dominion Bank app is ideal for advanced traders and includes simplified beginner features and investor training. The software allows for easy external money transactions and can be used on four different platforms.
How it works: Download the TD Ameritrade Mobile App from the store and register an account. With a minimum account of $ 0, start investing and control the stock market while staying in your app.
Choose an initial investment amount and start earning trading. Additionally:
Retirement Account (Traditional, Roth, or Rollover IRA)
Demo accounts (Tax-free Coverdell, UGMA / UTMA accounts, 529 plans)
Special Accounts (Advanced Features)
Managed Portfolios
Margin trading
Cool features: Transfer funds between TD Ameritrade and external accounts, $ 0 minimum account, tax-deductible brokerage account, in-depth account monitoring, price alerts, indicator charts, customization of screens, and lists, news and research, backtesting, earnings calendars.
Custom Tips: You can track quotes in real-time on your Apple Watch without using your smartphone. TD Ameritrade has four different platforms: Web Platform, Trade Architect, Thinkorswim, and TD Ameritrade Mobile App. While you can use all of them, you should know the difference.
Business model:$ 0 minimum account.
04 of 17 – VantageFX
VantageFX is a regulated broker in Australia, UK, and Islamic countries, offering traders worldwide access to over 180 trading instruments including Forex, Share CFDs, Indices and Commodities through the industry-leading MT4 and MT5 platforms.
All Vantage FX clients experience super-fast execution, tight spreads, and a completely transparent trading environment.
How it works: Opening an account with Vantage FX is quick and easy, and you can get started with as little as $ 200. As soon as your account is opened, you can immediately access a huge number of trading instruments and start trading in any style, be it scalping, swing trading, position trading, or even automated trading.
Cool features: VantageFX offers account types for all trader levels, from STP to high performing ECN accounts. Clients can also access a suite of trading tools designed to enhance their trading edge, as well as a range of promotions including volume-related bonuses, margin percentages, free VPS, and more!
Custom Tips: VantageFX does not charge any fees for deposits, withdrawals, or account management. And with 13 trading platforms to choose from, clients can trade both from their desktop and on the go via their mobile device.
Business model: the minimum deposit is $ 100. Minimum deposit by wire transfer $ 250, overnight commission (Premium), low spread (buy/sell, bid and ask price corridor, Bid: Ask), deposit/withdrawal commission.
05 of 17 – Capital
Capital.com is a web-based platform and mobile app, the leading global and free stock trading app with 360,000 active users and growing numbers. Even novice traders can use it and learn without risk – through a demo account, practice trading on the commodity exchange, trading cryptocurrency, contracts for difference (CFDs), trading in the stock markets. Includes Standard, Plus, and Premier accounts in 2 levels (retail, professional).
How it works: the user creates an account at Capital.com of their choice (web or mobile app), makes a deposit in USD / GBP / EUR / Polish PLN (minimum $ 20), trades on any of the world markets, make a profit, or loss, withdraws funds whenever he wants. Capital Com is registered in the UK and is regulated by the Financial Conduct Authority (FCA).
Cool features: 75 technical indicators, free demo account, no commission for day trades, maximum leverage of 1: 200, stop loss option, cryptocurrency trading (Bitcoin, Ripple, Ethereum), over 2000 markets, Forex, trading guides, and webinars.
Custom Tips: You can set a stop loss to prevent a negative balance. Withdrawals to a credit card can actually take 2-3 business days or more, depending on the user's bank's activities.
Business model: minimum deposit 20 EUR / USD / GBP, or 250 EUR by wire transfer, spreads, duty for carrying over a position overnight, and inactivity.
06 of 17 – AMarkets
AMarkets is an online trading and investment service offering a variety of products to trade, from currencies and CFDs to commodities such as oil or metals and stocks. It runs on the MetaTrader 4 platform and requires only $ 1 to start. Two account levels – Gold (from $ 1,000 to $ 20,000) and Platinum (over $ 20,000) are eligible for various privileges, for example, an ECN account, your own server, and an investment portfolio.
How it works: Register online, use the web terminal or download the desktop version, then select the account type in the trader's profile – Standard, Fixed or ECN; make a deposit, start trading. AMarkets offers leverage rates up to 1: 500.
Cool features: web terminal, MetaTrader 5 mobile application (iOS, Android), 3 types of accounts, additionally – Islamic account with a minimum deposit of $ 1000, micro lots, PAMM service, choice of fixed / variable spreads.
Custom Tips:0% deposit commission, set your own leverage rate to get more benefits, $ 10 bonus for every new Refer a Friend account.
Business model: Minimum deposit of USD 1000 on ECN accounts, fixed spreads of 2 pips on USD / EUR (0.0002).
07 of 17 – E * Trade
Stock trading application suitable for experienced traders with large investments and profitability. The app is available on all mobile OS and web platforms. Offers powerful monitoring and analysis tools.
How it works: Investors can buy and sell stocks, options, futures, bonds, mutual funds, forex, and trade online without interacting directly with the broker. To start trading, you need to invest at least $ 500 as a deposit.
Cool features: Advanced customer service, trading 24×5 on most active ETFs. Real-time news and pricing information, barcode scanner, comparison and performance graphs, watchlist setup, voice recognition system.
CustomTips: Click on the Complete View page to see all of your E * Trade assets on one screen. It will also show you an overview of the investment. Analyze the data as much as you like, extract all the information you need.
Business model:$ 500 minimum investment. To buy shares, you must pay $ 6.95. The price drops to $ 4.95 if you make more than 30 trades per quarter.
08 of 17 – Fidelity
Application for trading with low commissions. Users can customize most aspects of the software, including its look and feel. After registration, you can adapt the functions for yourself depending on your skill level.
How it works: After registration, you must fill out a questionnaire that will allow this application to trade stocks, determine your goals and investment methodology. The Fidelity app provides you with ETFs and mutual funds that you can use for your investments.
Cool features: Personalized approach, account verification, and management, customizable alerts, adjusted tax schedule, the ability to automatically pay bills, deposit money into Roth or Traditional IRA. By connecting Fidelity to Echo, Amazon's voice response device, you can immediately receive any response about stock changes.
Custom tips: Find Feed Preferences and customize them according to your needs. Use the Learning Center and select a finance area of ​​interest. Continue to study and listen to expert lessons that will expand your trading knowledge.
Business model:$ 4.95 registration. More than 90 commissions marked as "free" ETFs that are not completely free as you have to pay commission from 0.10% to 0.50% of the total deposited balance.
09 of 17 – SigFig
SigFig is a stock trading app with well-organized asset management and a simplified, easy-to-track portfolio. Due to the moderately high account minimum compared to other low-cost applications, this program is more suitable for experienced traders.
How it works: SigFig is platform-specific as it uses third party user accounts that must be pre-registered with TD Ameritrade, Fidelity, or Charles Schwab. It monitors and expands the user portfolio, balances investments, and reduces fees.
Cool features: Add-on app, third-party account sync, free advisor, advanced portfolio tracker. SigFig will automatically reinvest your dividends; will automatically rebalance funds in all accounts for free.
Custom Tips: You cannot manage your credit card in SigFig. In case you want to link different financial accounts other than those registered on the platforms of its partners (TD Ameritrade, Fidelity, or Charles Schwab), you will not be allowed to do so.
Business model: Minimum $ 2,000 for an account. Manage your first $ 10,000 for free. After exceeding the $ 10,000 limit, the annual management fee is 0.25%. The fee for a diversified income portfolio is 0.50%.
10 of 17 – Stash
An undemanding app for a newbie, inexperienced investors looking for the best way to start their trading career. Each user has the option of owning a retirement and standard account at the same time on the same platform. Stash is very popular all over the world because it offers a wide range of flexible investment options.
How it works: Like SigFig, Stash is not a direct manager of registered accounts. However, in this case, you can link it to your bank account; The main purpose of Stash as a stock trading app is to teach you how to build your ETF portfolio.
Cool features: Stash Coach; Smart-Save (saves the minimum of your daily purchases); the REIT (Real Estate Investment) function invests minimal amounts in real estate, bringing together users with similar interests and buying common property.
CustomTips: Instead of using multiple apps to monitor and manage your finances, you can open a Stash retirement account at the same time as you manage your regular account.
Business model: Free registration / minimum investment of $ 5. $ 1 monthly fee for accounts under $ 5,000, 0.25% annual fee for accounts over $ 5,000. Stash Retire (minimum $ 15 to start), custodian accounts (available to users under the age of 18, registered with the manager).
11 of 17 – Stockpile
This is an extremely rare stock trading app that allows you to make small purchases with gift cards. The whole company is based on fractional shares and does not require a large investment. Stockpile is primarily designed for aspiring investors, including children.
How it works: Stockpile offers "fractional shares", minimized shares (instead of buying a whole share, the user can buy it for 0.10) and allows users to invest in companies with household names. To complete the process, the user must purchase a gift card and exchange it for promotions.
Cool features: Gift sets wish list, retail buyout, credit card top-ups, expiration dates for physical gift cards. The iOS and Android Stockpile apps have all the features of the Web Stockpile version.
Custom Tips: This stock trading app has developed an expert training system. Access affordable training courses and learn all about investing. Electronic gifts are cheaper than physical cards.
Business model:0% minimum investment. Taxable and escrow accounts, $ 0.99 commission per trade, $ 2.99 commission for the first promotional gift card, $ 0.99 for each additional share.
12 of 17 – Schwab mobile
Schwab Mobile (Charles Schwab) is one of the leading stock trading apps designed for investors of all skill levels. The design of the app is very simple, making it easy for novice users. It also includes a long list of advanced features for seasoned investors, making it suitable for every trader.
How it works: Schwab has over 4,000 mutual funds and 250 non-commission ETFs. The app features exceptional industry research and is rated highly effective.
Cool features: Advanced industry research available on the web and mobile platforms, custom layouts, news & analytics, watchlist, real-time quotes, Apple Pay connectivity.
Custom Tips: Stick to the funds found on Schwab's "no transaction fee" list. If you want to get one that you cannot find on the above list, you will have to pay $ 76 for it.
Business model:0% service fee / minimum $ 1000 per account. $ 4.95 Trading Commission, $ 100 Novice Gift, $ 76 Transaction Fee (not listed).
13 of 17 – Acorns
Acorns is a handy investment application linked to the user's bank account. It automatically stores a small percentage of your daily credit/debit card purchases in your portfolio. Due to its simplicity and basic functionality, it is recommended for novice investors.
How it works: Thanks to the rounding system, Acorns keeps track of your bank account and saves minor changes from purchases to accumulate $ 5 in your investment portfolio; it then automatically invests in the specific portfolio you selected earlier.
Cool features: Fast deposit options, no minimum investment, Potential tab that allows the user to see the growing potential, rounding multiplier.
Custom Tips: By recommending the application, you get $ 5 for each registered person. In the beginning, don't constantly check the app and keep track of every dollar spent. Keep shopping with linked credit cards and be amazed at the amount Acorns has raised for you.
Business model:$ 1 / month for users with a total balance of less than $ 5000. 0.25% per year for users with a total balance of more than $ 5,000. The better the portfolio, the fewer fees will affect you.
14 of 17 – WealthFront
If you are an investor looking for automated investing and moderately low fees, WealthFront is definitely worth a try. The application has an integrated tool that creates the best strategy to help you achieve a specific goal. While you can create a diversified portfolio, WealthFront does not support fractional stocks.
How it works: After registering, setting your goals, and assessing your risks, Wealthfront categorizes the money you have invested in ETFs (exchange-traded funds) and acts as your financial advisor expert.
Cool features: Portfolio Review, Tax Location, Index Funds, Automatic re-balancing, Smart Beta, Risk Parity. The path is a savings system that helps you set goals and save efficiently to achieve them.
Custom Tips: If you need advice and answers to some questions that you cannot find in the WealthFront FAQ, visit the company's official web blog, where you can find many interesting, educational posts and tips.
BusinessModel: Free registration / $ 500 minimum. Minimum withdrawal of $ 250, 0.25% annual commission for accounts with a total balance of over $ 5,000. Portfolio credit line for accounts with a total balance equal to or greater than $ 100,000.
15 of 17 – 5Paisa
An extremely popular Indian app for users of all skill levels. It's great for beginners as it offers a free first year after registration. 5Paisa is a low-cost stock trading app with robotic advice and an online stock market, including most of the features that leading financial apps to provide.
How it works: A standard stock trading application where you need to submit an application and wait a few hours until you are approved. Then you can invest in stocks from your preferences and use 5Paisa's integrated tools to monitor all your finances.
Cool features: Demat Account, Instant Fund Transfer, Quick Order, Auto-Investor, Live Quotes, Synchronized Watchlist, Exceptional Charts.
CustomTips: Don't rush to make large investments in small and medium-sized companies, even if the offer seems very attractive. Do your research, and if the firm does seem stable, invest. If not, it is better to prevent failure than to deal with the consequences.
Business model:First year free / free mutual fund account. Annual membership of $ 400 ($ 5.80) / 18% GST for individual users. Annual membership of $ 1000 ($ 15) / 18% GST for non-individual users. $ 10 ($ 0.15) per trade.
16 of 17 – Trading 212
Trading 212 is another globally recognized app with huge trading opportunities for active traders that connects all major markets. The system provides educational programs, and in addition to the mobile platform, you can also access it from the Internet.
How it works: As a new user, you can try a demo account that will help you learn about and familiarize yourself with this stock trading application. Trading212 uses a separate Tier 1 bank account for all of its users' finances.
Cool features: User-friendly app, informative educational program, automated trading, web and mobile platform, trading signals, market analysis, chart monitoring, one-click order execution.
CustomTips: After a single or multiple successful trades, do not start to quickly increase the trade size. Users usually react this way and invest all of their earnings, thinking they will continue to win and end up losing most. Balanced investments are the key to success.
Business model:Minimum deposit 150 $ (100 €, 100 £). Maximum leverage 1: 200, monthly reward for 10 trades without commission. After spending 10 commissions, each commission ranges from 1.95 ($, €, £) + 0.05% to 1.95 + 0.08%.
17 of 17 – StockTwits
StockTwits is different from all the other apps on this list. This is a great additional social media and stock tracking app for new and experienced investors. This platform plays the role of Twitter for stock traders and connects users with similar interests around the world. You can use it to build trust, meet other traders, and share your experiences.
How it works: Users exchange messages, organize streams, tag others, and can even connect their StockTwits and Twitter accounts.
Cool features: Stock highlights, Top Stocks, Market Sentiment, Streams. Heat Maps is a search function for top stocks of certain sectors, shows a chart with all the collected data.
Custom Tips: In addition to being able to connect StockTwits to your Twitter account, you can also connect StockTwits to your Fidelity, Robinhood, and Scottrade accounts and get the latest information on newly created watchlists.
Business model: Free app with no hidden fees or commissions.
DOWNLOAD FINANCEWORLD APP OR USE WEB VERSION
Live Trading Signals: Forex, Stock, Crypto, Commodities



create or login to your account to unlock all FinanceWould functionality
MY FINANCE WORLD
And we also recommend subscribing to our FaceBook and Telegram channels in order to receive the most relevant information in demand on the financial markets.